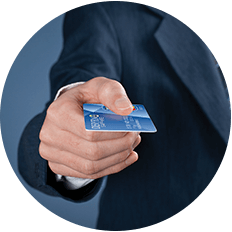 Desyfin invites you to enjoy the privileges and benefits of our Desyfin Sapphire MasterCard, free of all annual or membership fees with the following additional benefits:
Customer care line through our Contact Center at: 800-1020-300 or by email to: servicioalcliente@desyfin.fi.cr
No commission charges for purchases abroad
Payment through our online Desyfin transactional platform (desyfin.fi.cr), Desyfin mobile (iOS and Android) and through SINPE
Earn miles for every dollar spent in purchases which can be redeemed through our Virtual Mall ( https://malldesyfin.com ).
Additional cards free of charge
Online control of purchases made with our credit cards for improved security
Program and assistance from the MasterCard brand
Extra financing approved upon receiving the card with different terms
Free fraud protection in the event of loss or theft, up to 100% of the approved coverage limit
The card is accepted in any business or ATM that accepts MasterCard, domestically and internationally.
Credit Card Miles – Terms and Conditions:

BENEFITS OF THE DESYFIN SAPPHIRE CARD
Requirements for Legal Persons:
Articles of incorporation (with shareholding)
Recent public utility bill (water, power or telephone).
Financial statements (two previous fiscal years and a recent fiscal year to date– not older than three months).
A copy of the company's legal representative's personal identification, legible and valid.
Requirements for Natural Persons:
A copy of your personal identification, legible and valid.
Recent public utility bill (water, power or telephone).
Employees: employer certification, and salary certificate.
Independent professionals: CPA income certification and six months of bank statements.