WE ARE THE SUPPORT AND GUARANTEE FOR YOUR BUSINESS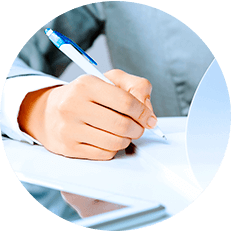 Bid bonds are used in public bids from government institutions and some private companies. These are required for infrastructure works, purchasing assets and services.
They are considered as payment promissory documents issued for a third party to guarantee the truthfulness of action and are granted for a determined amount and length of time, usually for a percentage of the value of the work or tender.
This service is provided for our customers through revolving credits or specific approvals, whichever suits your requirement or need.
Using the bid award as guarantee.
With the issuance of the bond on our behalf, we can support you with the required financing for the execution of the awarded project.
Our agile and efficient solution for supporting your tenders before public and private entities, with response times according to your needs.
Requirements for Legal Persons:
Articles of incorporation (with shareholding)
Recent public utility bill (water, power or telephone).
Financial statements (two previous fiscal years and a recent fiscal year to date– not older than three months).
A copy of the company's legal representative's personal identification, legible and valid.
Requirements for Natural Persons:
A copy of your personal identification, legible and valid.
Recent public utility bill (water, power or telephone).
Employees: employer certification, and salary certificate.
Independent professionals: CPA income certification and six months of bank statements.